Who is the most likely to succeed in the top 10?
This draft class is deep. There are high expectations for a lot of guys in the top 10. Most people probably think that Wiggins, Parker, Embiid, or Randle have the best chance of succeeding. However my models seem to think that Marcus Smart might actually be the guy who is most likely to succeed in the NBA. The numbers seem to love Marcus Smart. For the top 3 models which were generated including information about expected draft pick he shows up #1 in both SMO and LR and #2 in RF. Here is a table of from all years who showed up #1 in both SMO as well as LR from all years: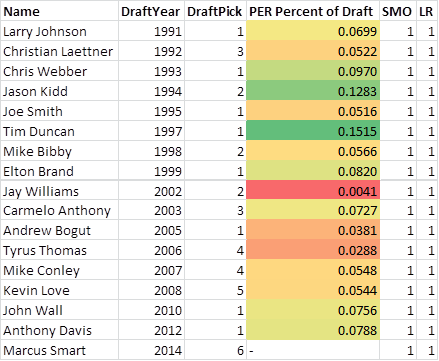 As you can see the list is filled with stars. I admit there are two guys on this list who you might call busts. However I can't find a model which doesn't like Tyrus Thomas…and Jay Williams career was cut short before we know what could have been. The rest of the list is filled with above average players to stars. We will see if Marcus Smart shows similar performance.
One interesting observation I noticed about Marcus Smart is that he had a better ranking in SMO which was considering draft pick (ranked 1st) compared to the same model generated which didn't consider draft rank (ranked 2nd). This was very surprising considering the model was using #6 as his expected draft pick (Chad Ford Top 100). If his draft rank was #1 this would make total sense but the fact that his rank was #6 and his rank actually went up from 2 to 1 is very surprising. I thought I would check to see if there were any other players who showed similar behavior to see what this might mean. Here is a list of players who had SMO < SMO-NoPick < Pick Rank in the last 10 years:

There have only been 10 other players and almost all of these guys have exceeded expectations. A lot of these guys have well beyond exceed expectations such as Lowry, Rondo, MCW, and Faried. I don't really have a good explanation for this but some ideas are:
When you include draft pick in the model it has the flexibility to learn things which add information on top of draft pick which might be incorporating more detailed attribute relationships whereas without draft pick the model glosses over the minor details a bit and instead needs to focus more on the things which correlate with draft pick while missing out on the extra meaningful information.
Alternatively if the other players who were ranked higher had their predictions drop when you added draft pick info this could cause the other players like Smart to get thrust up higher (for example if the players who were ranked higher in SMO-NoPick were super low rated by the scouts this would allow someone who is average rated to stay afloat at the top). You could argue that was true here with Randle as the #1 in SMO-NoPick but then what about the other top 5 players who didn't jump up? Doesn't sound like a coincidence to me.
Regardless of the cause, seeing the similar players who showed this trend is an additional sign that we can expect success for Smart in the future.
Will Wiggins live up to the hype?
It sounds like Wiggins is destined to be the #1 with Embiid not looking healthy. I decided to compare him with all prior #1's from college. I found that Wiggins is one of only 4 out of 17 players who didn't rank higher in their draft class than #3 in any of the 6 major models. That doesn't sound like a great sign. Wait, it actually gets worse…the other 3 players names are: Michael Olowokandi, Anthony Bennett, and Greg Oden. Not a list I would want to be on. Here is the table sorted by PER Percent of Draft showing this: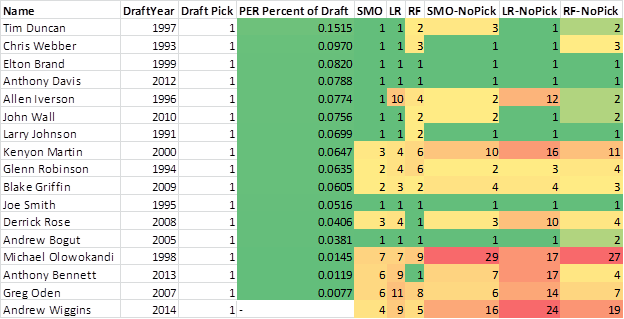 The table's ranking are pretty self-explanatory, the data point towards Wiggins being more likely to be a bust than a future star.
Who is the most likely to underperform expectations?
I wanted to see who the best model (SMO considering draft rank) thought was the most overrated player. To do this I took SMO rank minus draft rank, I will call this the "overrated value". Here are players with a value of 8 in terms of "overrated value" in the last 10 years: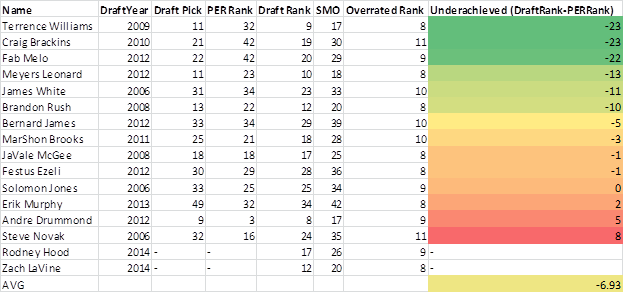 This list has some underachievers (Terrence Williams) as well as some overachievers (Andre Drummond). However all in all they tend to underperform more than over-perform with a average underachieve score of -6.93 draft ranks. There are two players in the 2014 draft class who also fit this criteria: Rodney Hood and Zach LaVine. In general the numbers are not very fond of them…take a look at their ranks in the models without draft pick included! If I were a betting man I would say that one of those two players will vastly underperform and that the odds are good that both will fail in the NBA.
Who is the model most confused by in the top 10?
Similar to the previous section, I wanted to find the most "overrated" player in the expected top 10 picks. The highest difference between model and expected pick is Gary Harris (12 in SMO, 8 in draft rank - remember this only includes college players) with an "overrated" value of 4. I assumed this meant he was destined for failure like I hinted at above but I wanted to review this with some prior samples to confirm if this still looked true. Here are all players who had a SMO which that 4 or more ranks higher than their draft rank: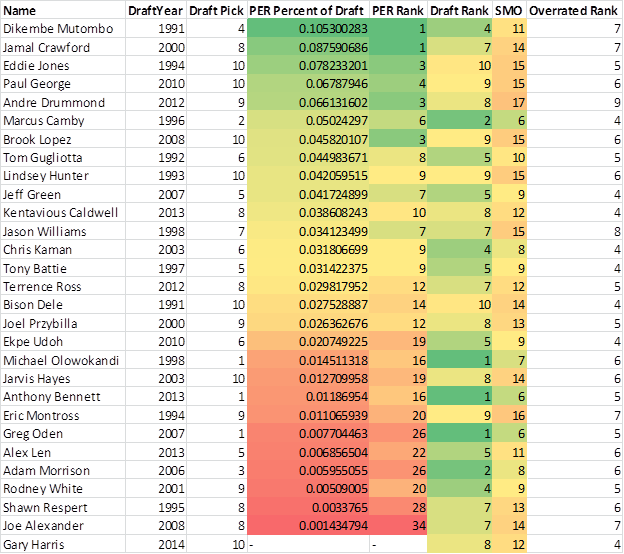 This table is very surprising, the distribution of success vs. failure is almost an even distribution across both ends of the spectrum. We have successes like Mutombo, Crawford, George, and Drummond while also having failures like Olowokandi, Bennett, Oden, and Morrison and plenty of average players in between. For whatever reason these are some of the most polarizing players that the model is confused by. No matter what I tried, I have always seen the model hating on guys like Crawford, George, Drummond, and Lopez. In this list I see a lot of highly touted centers (Mutombo, Camby, Drummond, Kaman, Olowokandi, Oden) as well as swing men who didn't have high FG% in their college career : Joe Alexander - .447, Paul George - .447, and Jamal Crawford - .412. Gary Harris most definitely falls into the second category with a clip of .440 and only .429 his final sophomore season. The model heavily punishes guys like this because more often than not these guys fail in the NBA. There are very few guys who can stick around in the league shooting such a low percentage. George (.428 career NBA FG%) and Crawford (.411 career NBA FG%) are the exception not the rule. They bring the ability to: knock down the 3, get to the line and knock down FT's, and enough instant offense to the table that their FG% can be overlooked. If Harris wants to have a chance in the NBA he is going to have to show similar abilities. Lets compare the college numbers for these guys in these categories in their final college season:

Luckily for Harris he made more 3's per 40 minutes in college than the others and is very comparable in the other categories. I think he has a chance to succeed like the others but it is by no means a guarantee. Finding the right opportunity might be a key for him because landing on a team who doesn't let him get away with some high volume shooting will limit him from showing his potential. Time will tell where Gary Harris ends up on this wide spectrum…
What about my boy C.J.?
I have gotten first hand experience watching C.J. Wilcox progress from redshirting his freshman year (even though he was the best shooter on the floor shown by his ability to hit NBA+ range 3's in warm-ups) to where he is now as an expected late first round pick. I have always thought he had the right tools to play in the NBA - he shoots a high percentage from the field (.453), from the line (.873), will make you pay all day from 3 point range (2.8 3PG), can D it up (1 SPG, 1 BPG), and is a freak athlete (31" no step virt). Before I generated my models I was sure he would look great in them. However after looking at the predictions he is only looked at as the 32nd best player by the strongest model and not much better in any of the others even though he has the 25th best college player (rank from Chad Ford). After understanding what is important to the models this is undoubtedly because of his age. Not only did he stay and play for 4 years after redshirting but he is actually a bit older than most for his age. He is almost 24 years old in a draft filled with 19 year olds. The model is severely punishing him for this. It doesn't help that he had an injury riddled junior year where he had a chance to show his true potential at a younger age (this would have helped him since I generated predictions for each of a players college season and picked the highest ranking season). Looking back at the raw data, his sophomore season actually appeared to have his highest rankings - I will be going into this more in-depth in a future blog post. Conceptually it makes sense to punish players for their age, the best players in the league entered the draft early. There are few examples in the data to support a junior and senior becoming a star in the NBA compared to high school, college freshman, and college sophomore early entrants. Does this mean that a player who stays for 4 years can't be a star? No, not at all. It just means that there isn't going to be a lot of historical data to support it and therefore age becomes a strong negative indicator of success. While combing through the data I noticed a player with similar rankings to C.J. in Chandler Parsons:

Parsons has way over-exceeded draft expectations and similar to Wilcox he also played 4 years in college. The models ratings for these players are eerily similar. I think C.J. has the ability to be the next player like Parsons who shows that 4 years to hone your skills in college doesn't have to be a bad thing.
It is very unfortunate that age and experience is looked at as a negative because it encourages guys to leave before they are ready. I'm pulling for C.J. to add a new data point toward staying in college and pave the way for future data points. In this case I am going to go against my model and hope C.J. proves the data wrong!