Selection Committee Analytics
RPI vs. The Numbers - How did the selection committee do?
Photo:
MDGovpics
With the recent talk about the selection committee looking to use better numbers than the RPI, I thought it might be interesting to see how The Numbers think they did.
---
Data
---
Here is a table showing:
The committees last four in (lowest seed rank that weren't automatic bids)
The next best 12 teams as defined by The Numbers (average Kenpom and Betting Model ranks)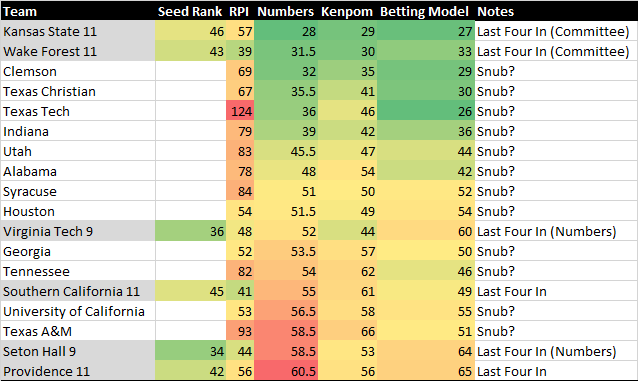 ---
Last Four In
The Numbers and the Committee agreed on Providence and USC being the last four in. However the committee seeded two teams who are well-liked by the numbers (Kansas State and Wake Forest) into the play-in game. Kansas State shows the RPI still does matter (it had the lowest RPI of the bunch). On the other hand, Wake Forest was likely slotted below Virginia Tech (last four in from The Numbers) given its loss to them in the conference tourney. Similarly, Seton Hall had a strong finish showing the committee might have more recency bias than The Numbers.
---
First Four Out
While the media is abuzz with Syracuse getting snubbed, The Numbers don't feel too bad for them. Instead The Numbers think Clemson (11 of 14 conference losses were by single digits), TCU (7 game losing streak to end the regular season), Texas Tech (124 RPI), and Indiana (beat Kansas and North Carolina but couldn't win in the Big Ten) all would have put up a better fight in the tourney. Unfortunately these teams all have very obvious flaws and probably didn't stand much of a chance from the committee.
The next tier of bubble teams (Utah, Alabama, Syracuse) were likely doomed by their RPI. The remaining contenders (Houston, Georgia, and Cal) are intriguing since they were ranked quite similarly by The Numbers and the RPI. However these teams were probably left out because they didn't have a signature win against a top 25 team like Providence.
---
Did the committee get it right?
Do The Numbers think think Clemson and TCU (top 2 teams left out) are better teams than Seton Hall and Providence (last 2 teams in)? Yes.
Can you argue with the committees decision? No.
Now about that seeding…Wichita State a 10 seed!?!?