The round of 16 wasn't so sweet in Vegas
March Madness Models - Sweet 16 Recap
After doing quite well in the first week of madness let's see how we did in the sweet 16. This post will be a quick recap of my sweet 16 picks.
---
ATS Recap

Let me start by saying I'm just glad I didn't have Utah. Even without that brutal pick, things didn't go quite as well in the sweet 16. Check out the graph below of point spread in the Wisconsin vs. UNC below - that was quite the turnaround by the Badgers…I thought I was in the money for sure until the final 2 minutes. This goes to show you how unpredictable March basketball is.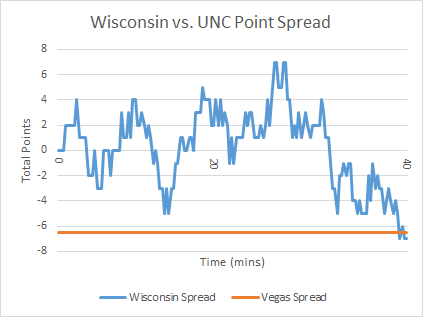 Here are some more observations:
I discovered why the models differed so much on the Louisville game. It was because Louisville and NC State played each other earlier in the year. M2 was skewed because NC State won that previous matchup and M2 is susceptible to such things. If I were aware of that at the time of making picks I wouldn't have made this pick and might have even gone the other way. Oh well, I'm still new and learning here…
The Zags pick had the exact same problem. Gonzaga played UCLA earlier in the year beating them on UCLA's home court. Even then this pick was still reasonable (although maybe not quite as strong).
The models got Notre Dame right all the way.
Sweet 16 ATS Record: 2-2
Overall Tourney ATS Record: 9-5
---
Over/Under Recap
Here are some observations:
The Badgers actually controlled the pace like my models thought they would (pace of 60.7 with season averages for these teams of 59.4 and 69.2). It wasn't the pace which determined the over/under though, it was the teams scoring efficiency which pushed them to the over.
5 of the 8 games hit the under, defenses seem to control the tempo in most (but not all) games in March.
The expected highest scoring matchup was the Zags game, however this only ended up the 4th highest of the bunch.
The Kentucky was well under, but this is because no one can score on them.
Louisville and NC State exceeded the Vegas spread (as expected) but this was mostly because the spread was set so low.
Sweet 16 O/U Record: 1-3
Overall Tourney O/U Record1: 2-4
Next up: Elite 8 picks