The Sweet 16 is here. Let's revisit how we got here (biggest movers), where we are (current matchups), and what is ahead (future win probability/spread projections).
---
JAM Rank Updates
Inspired by ESPN's look at re-seeding the remaining 16 teams, I decided to compare pre-tourney JAM rankings to current rankings. This will give some insight into which teams JAM thought had the most impressive wins (or loses) in the first week of tourney action.

Notable Winners
Florida (6->3) - JAM was already very high on the Gators but a huge win over Virginia makes them look even better.
Kansas (12->8) - Strong wins and some underachieving by teams below them moved Kansas up to a title contender.
South Carolina (33->27) - With a win over Duke, the Gamecocks turned the most heads in the opening weekend.
USC (45->41) - A close win over highly regarded SMU (by the models) moved up the Trojans.
MTSU (60->55) - Pulling off the annual 12-5 upset moved them up.
Northern Kentucky (174->164) - A loss(!) to Kentucky moved them up more spots than anyone else? I guess losing by 9 when the spread is 20 goes a long way.
Notable Losers
Virginia (8->14) - No matter how elite your defense is, if you can't score you can't win.
Miami (31->35) - A loss to Michigan State drops them down, JAM doesn't know the powers of Izzo.
Marquette (52->56) - A 20 point loss to South Carolina likely would have moved them down further if the Gamecocks didn't beat Duke.
Florida Gulf Coast (119->126) - This is a bit surprising given they only lost to FSU by 6 (when the spread was 11.5) - don't question the numbers.
Notable Non-Movers
---
Sweet 16 Betting Insight
In Vegas looking for a good play? This might be helpful to you: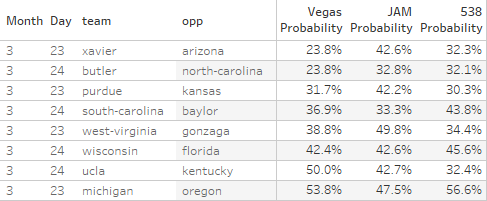 ---
Win Probabilities
Below are the JAM win probabilities for all possible remaining matchups:

---
Spreads
If JAM were running a sports book, here would be the opening lines for all possible remaining matchups: