All bark, no bite?
Could El Paso have attracted its new Triple-A team without building a new stadium?
Triple-A baseball arrived in El Paso, Texas, this week with the home debut of the El Paso Chihuahuas. I'm an El Paso expatriot and a baseball fan, so this is naturally a big deal to me. I even went to see the team (much closer to my current home) in Tacoma during their season-opening road trip. It also turned about to be a big deal other El Pasoans and ex-El Pasoans. I talked about it with my dad, with my high school friends, and with anyone who would listen to me, really. Part of me was excited that after the city's Double-A team was sold and moved to Missouri in 2005, El Paso could get not only another affiliated team but a better one. Part of me was excited at El Paso's placement above San Antonio in the Padres organization. The largest part of me was excited that El Paso actually did a big city thing and put together the money to draw a team.
Yes, I'm excited by what amounts to corporate bribery.
This sort of money - roughly $70 million - doesn't get spent without controversy, even if you don't blow up your city hall to build a stadium. The controversy and that eye-catching detail about blowing up city hall drew the attention of Grantland for an article about minor league baseball, urban revitalization, and the politics and finances of the border region. Part of the article, as well as a fair number of comments I've seen online (I know a lot of El Pasoans), pointedly mention that El Paso already had a minor league stadium. Grantland notes that it was built to house a possible Triple-A team. So it's a decent question: Why couldn't they play in Cohen Stadium?
Cohen Stadium opened in northeastern El Paso in 1990. Was it really ready for Triple-A?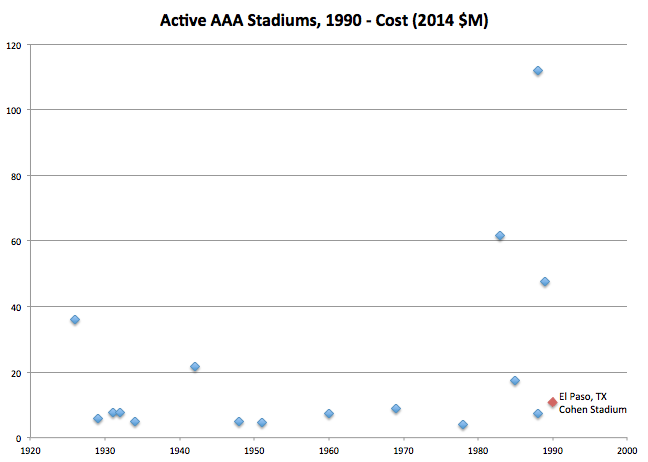 I've taken stadium construction cost in 2014 dollars as a proxy for overall stadium quality and situation (US dollars specifically, as Edmonton is a data point here) and plotted this against the year the stadium opened for each of the sixteen stadiums in use in Triple-A in 1990 where data was available from Wikipedia. (There are ten stadiums excluded for lack of data.) I've also added a data point for the Double-A but "designed for Triple-A" Cohen Stadium in El Paso.
The 1980s saw several large spends on Triple-A stadiums, with Scranton, Las Vegas, and especially Buffalo spending more than expected against the long-term pattern of stadium with low costs, by today's standards. For Buffalo in particular, this was with the explicit goal of building an expandable park that could attract a future major league team, and the city was both a relocation and expansion candidate in the late 1980s and early 1990s.
El Paso, on the other hand, fits comfortably within that long-term pattern. Triple-A stadiums at the time also spanned all decades since the 1920s in their initial openings. Having been to Cohen Stadium many times, I'm comfortable saying that it would have fit in as a Triple-A stadium when it was built, or it could have at least been upgraded fairly easily.
The story is different in 2014.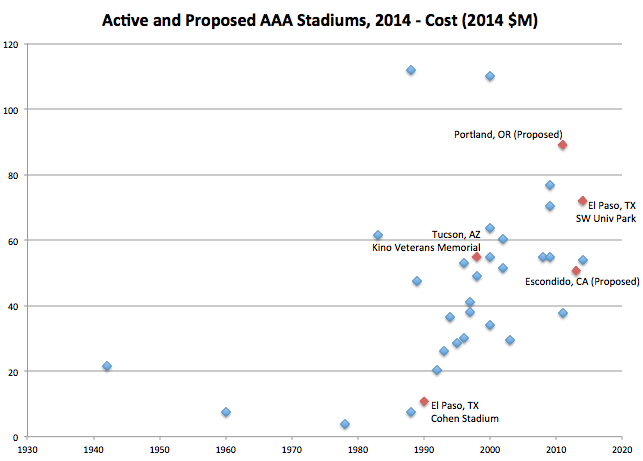 While not as well publicized, the stadium boom of the 1990s and 2000s extended into the minor leagues as well. In fact, while the boom has more or less ended at the major league level with only the construction of a new stadium outside Atlanta on the horizon, more minor league stadiums continue to be constructed each year. As a result, a Triple-A team moving into Cohen Stadium would be playing in one of the oldest stadiums at that level, and one of the cheapest. No team is going to move into that situation short of desperation, much less one purchased by real estate developers for the purpose of improving their holdings.
This is borne out by noting where some of the team's options fall in the graph above. In 2010, the Chihuahuas were the Portland Beavers. However, with the award of a Major League Soccer stadium to Portland, their home stadium of PGE Park underwent renovation to become soccer-only. A proposed baseball-only stadium in Portland is shown in the graph, but funding never occurred. Needing a new home in 2011, the Beavers tried to get a new stadium built in Escondido, California. However, the state fund that Escondido would have used to help fund the stadium was dissolved, and the city backed out of building a stadium. Lacking a newly-built stadium, the Beavers settled on a temporary home in Tucson at Kino Veterans Memorial Stadium, which had originally been built for the Tucson Sidewinders (now the Reno Aces) in 1998. Finally, of course, the team was sold to a group who moved it to El Paso's Southwest University Park. Every single one of these options, whether they materialized or not, was newer and more expensive than Cohen Stadium. Even for a team that had truly lost its home and needed a place to play, Cohen Stadium was never a factor.
In fact, Cohen Stadium doesn't even hold up well against today's Double-A stadiums.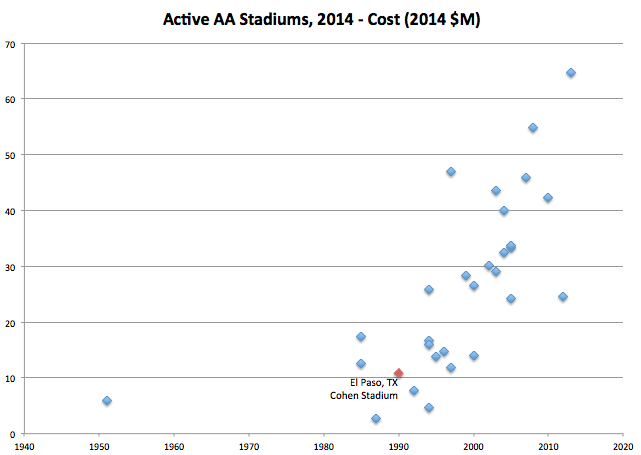 Of the four stadiums older than Cohen on this chart, Huntsville is moving off the list next year as the Stars move to a new stadium in Biloxi, and Richmond moved onto this list a few years ago after losing its Triple-A team to a new stadium in Gwinnett County, Georgia.
In the end, even without the city's political and economic goal of revitalizing El Paso's downtown, it was unlikely that a Triple-A team would move to El Paso and play in Cohen Stadium. There's no shortage yet of construction offers for teams at all levels, and while El Paso might have been a preferred option given the team's affiliation with the not-that-far-away Padres, a better offer would probably have appeared.
In this respect, Cohen Stadium is a sadder minor league version of Chicago's US Cellular Field. That stadium opened in 1991 but was almost immediately rendered out of date by the opening of Oriole Park in 1992, which launched the retro stadium construction boom across the major leagues. One of the last of its breed, US Cellular ended up undergoing over a decade's worth of offseason renovations to bring it closer to the newer stadiums. Likewise, Cohen Stadium was one of the last of an older style of minor league park. Once it lost its team, affiliated minor league baseball was never going to come back.